This gluten-free gingerbread cake has a great texture, loads of gingerbread spice, and is a fantastically quick and easy Christmas dessert that doesn't taste gluten-free!
I've been making this gingerbread recipe for almost 20 years. I used to make it with all-purpose flour, then I switched to whole wheat flour, and for the last several years, I've been making it with gluten-free flour.
People have told me that they don't usually like gingerbread, but they love this cake. It's really a fantastic recipe!
It's heavily spiced, the way I think gingerbread cake should be, but if you want to dial back on the spices, you can.
The original recipe uses 1 teaspoon of ginger, 1 teaspoon of cinnamon and ½ teaspoon of cloves.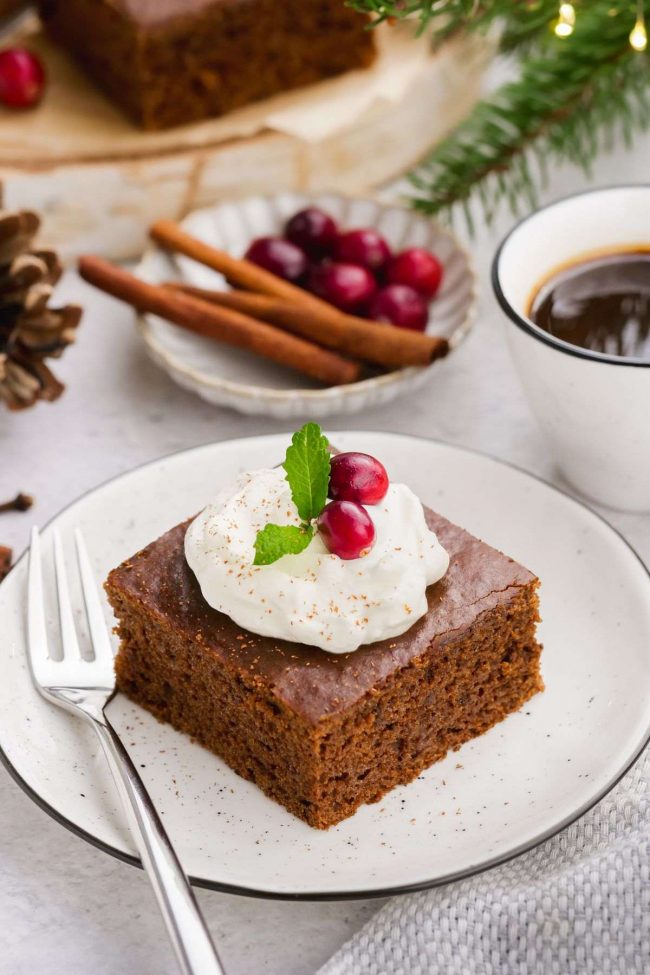 Source
This recipe is adapted from the Favorite Old-fashioned Gingerbread recipe on Allrecipes.
You'll find the same recipe on a lot of blogs and even a molasses brand website. The adaptations in their recipes (and this one) came from reading the user comments on Allrecipes.
It's kind of shocking the number of bloggers that take recipes from Allrecipes and other large sites without giving credit where it's due. Especially a lot of gluten-free and keto bloggers who just convert a recipe to be gluten-free or keto and claim it to be original.
But anyway. On to the recipe!
Ingredients
Gluten-free baking flour – I used Bob's Red Mill 1:1 Gluten-free Baking Flour.
Spices – this cake is loaded with ginger, cinnamon and cloves to lots of Christmas flavor.
Sugar – you can use granulated or coconut sugar.
Butter or oil – I do not recommend olive oi! You can taste it. I would recommend something more neutral like canola oil or vegetable oil. I wouldn't recommend coconut oil, as the cake isn't as fluffy with it.

Applesauce – make sure to use unsweetened. Although, if you only have sweetened, I think it'd still be fine. This cake isn't super, super sweet, so I don't think a little extra sugar in the applesauce would be a big deal.
Molasses – more on this below!
Egg – I haven't tried this gingerbread with an egg sub. It only calls for 1 egg, which makes me optimistic that it'd work. However, it's always a risk with cake. I find that egg subs + gluten-free flour can sometimes result in gumminess.
Baking soda, salt, vanilla, hot water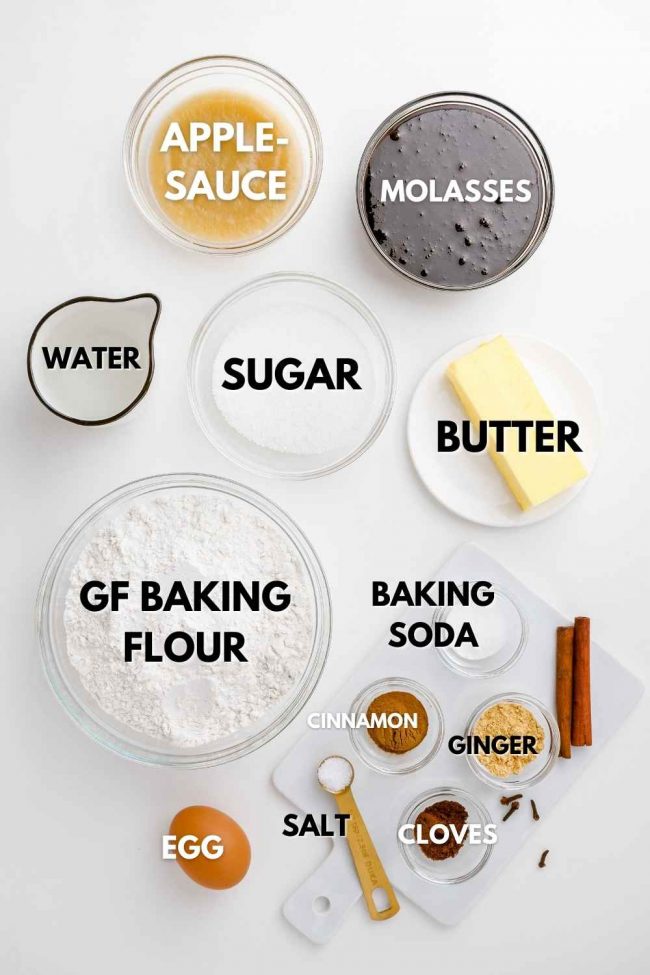 How to make it
It's a basic cake recipe. Nothing fancy here. First, mix together the dry ingredients.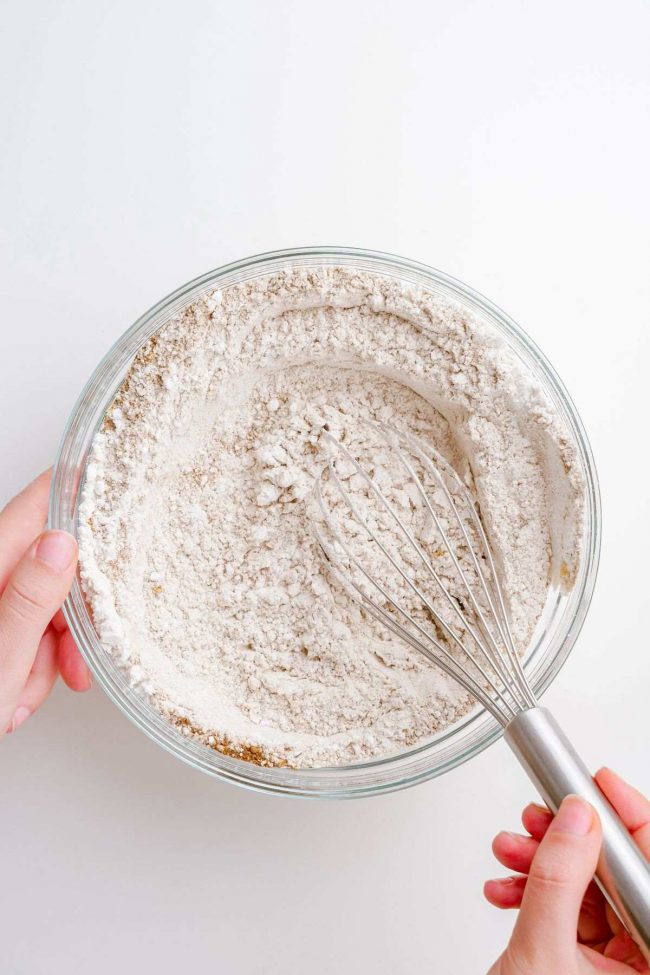 Then beat the butter and sugar together. If using oil, you can just mix everything together with a big spoon.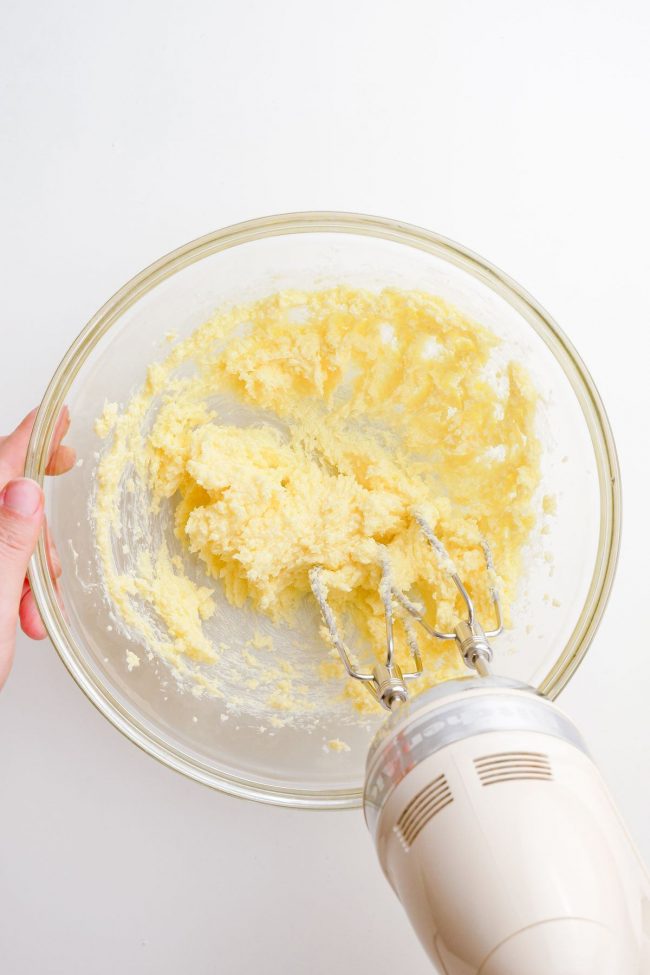 Add the rest of the wet ingredients.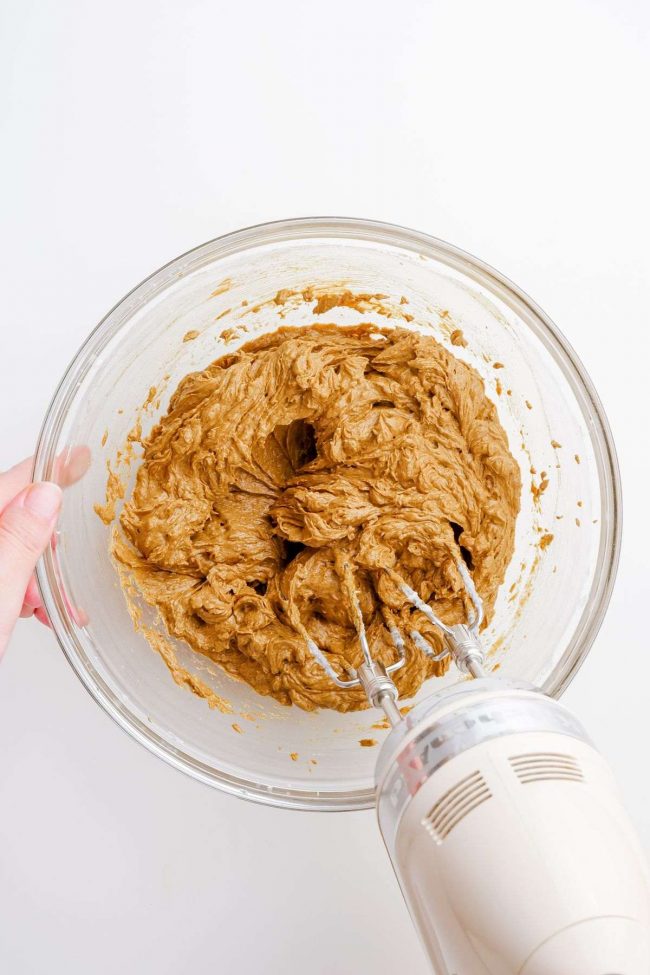 Add the dry mixture into the wet and stir until combined.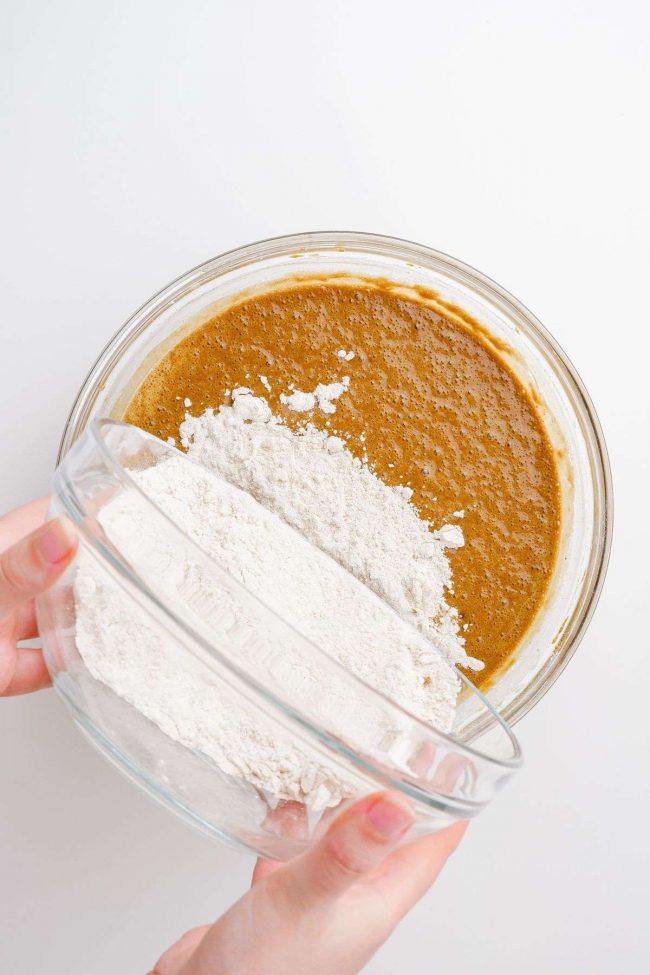 There will be some large lumps that you don't want. Make sure to mix until there aren't any large ones left. Little ones are okay.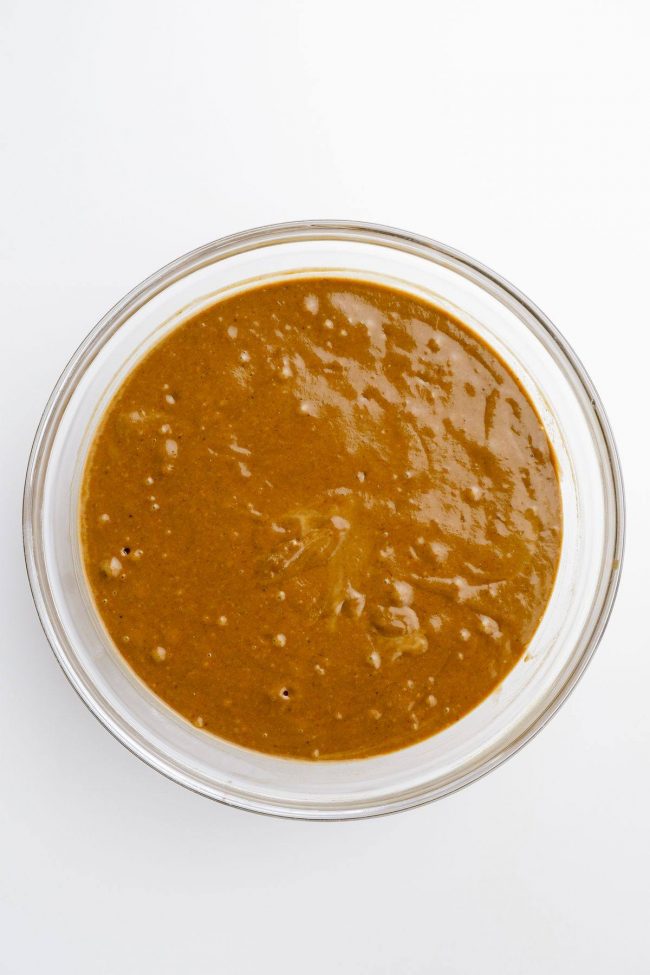 Pour into the pan and bake!
Texture
I love it fresh out of the oven. It's perfectly light and fluffy.
It gets denser as it cools, but not a bad dense. Kind of brownie-like. But not quite brownies!
If you want light and fluffy, just reheat it in the microwave.
The topping
I kept it simple and used whipped cream. I thought the cranberries and mint leaves were a fun, natural colorful topping!
I normally like cream cheese frosting on everything. Because I prefer this gingerbread a bit warm, I didn't use it here. But if you want to, this is what you'd need:
8 ounces (225 grams) cream cheese, room temperature
1/2 cup (113 grams) unsalted butter, room temperature
1 teaspoon vanilla extract
pinch of salt
2 cups (240 grams) powdered sugar
In a large mixing bowl using an electric hand blender, beat the cream cheese until smooth.
Beat in the butter until totally combined and light.
Beat in the vanilla and salt.
Gradually beat in the powdered sugar until totally smooth.
Spread over the totally cooled cake.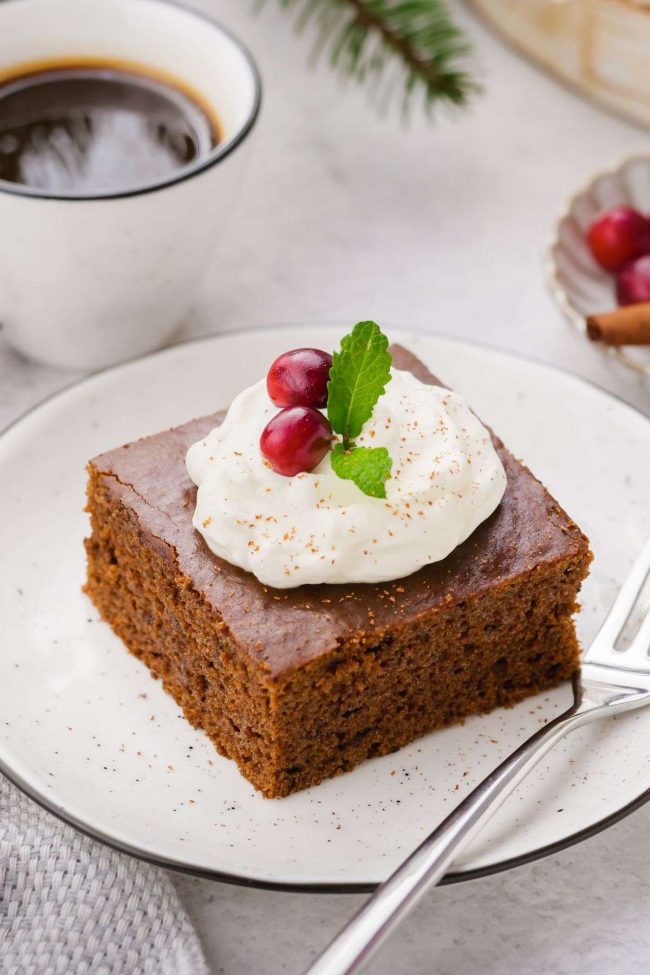 Other flour blends?
I've only tried this recipe with Bob's Red Mill 1-to-1 Gluten-free Baking Flour. I've heard great things about Cup4Cup, but I don't have access to it where I live.
It also contains milk powder, which I can't have (I can have cream cheese, sour cream, cream, etc. – just not plain milk – in case you're wondering how I can post cheesecake recipes and such).
Whatever you try out should be a 1:1 replacement for all-purpose flour. With Bob's, the cake doesn't have any odd taste nor does it have a gritty or weird texture. If you use a different brand, you might get that.
If you try something else out, please let us know how it works out in the comments!
What about blackstrap molasses?
I always used blackstrap molasses in my recipes, without issue. Like I said on my Vegan Molasses Cookies post (which also can be made gluten-free!), my paleo + vegan Gingerbread Brownies recipe originally called for blackstrap molasses.
I'd shared the brownies with several people and had another person make them. We all loved them. But apparently, some of the commenters loathed them.
Turns out a lot of people hate blackstrap molasses! It appears to be an acquired taste.
So, if you regularly use blackstrap molasses and like the results, you can use it here. If you've never tried it before, I recommend going with regular light molasses.
The molasses you find in every grocery store is light molasses. Brands like Grandma's or Crosby's. It's lighter in taste than blackstrap.
Blackstrap is a thick, dark and concentrated syrup with spicy overtones. It can be bitter.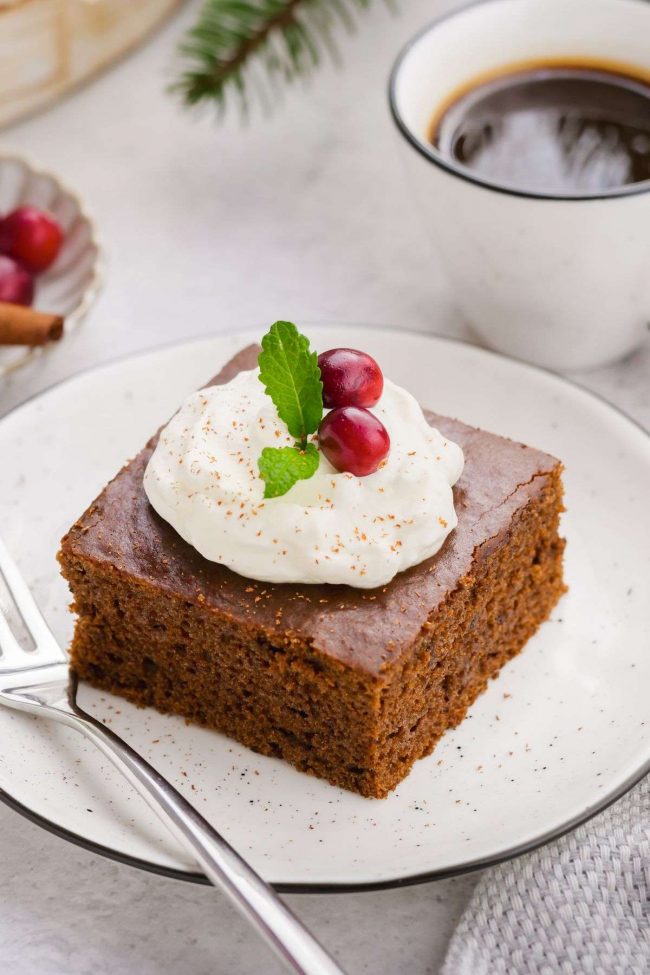 Everything I've always read states not to use blackstrap in a recipe unless it specifically calls for it, but I always do. Maybe there are huge differences in brands of molasses? Perhaps some are very bitter and others aren't?
I use the blackstrap molasses from Wholesome (a US brand), a British brand named Meridien, and a German one from Rapunzel. The German one doesn't specifically say blackstrap (it seems like all brands here are blackstrap), but it tastes and looks just like the other two that are labeled blackstrap.
How do I make this with regular flour?
If you're not gluten-free, you can use all-purpose flour or whole wheat flour in its place. That's how I used to make it.
However, I'm not sure of the baking time. The original recipe on Allrecipes uses a 9″ pan and says to bake it for an hour.
I don't have a 9″ pan and was worried about it not baking up properly in an 8″ pan with the gluten-free flour, so my version uses a 9″x13″ pan with only a 17-minute bake time. If using wheat flour, I recommend just keeping a close on eye on it. It's easy to overbake!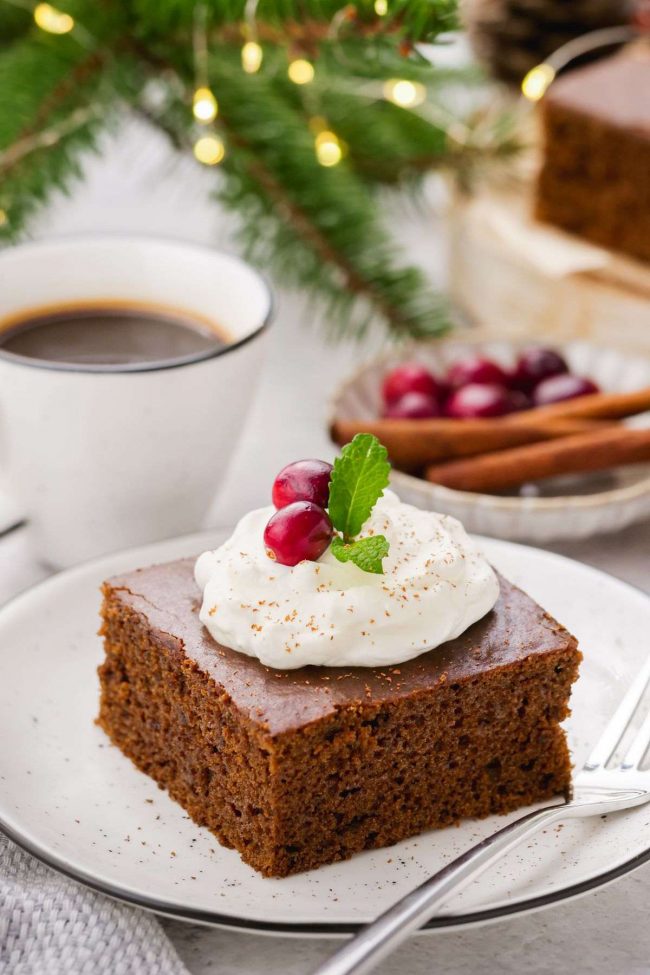 Other Gluten-free Christmas Desserts:
I would love to know what you think! If you make this recipe or any other here on the site, be sure to leave a comment below. If you share your re-creations to the world just tag #texanerin so I can easily find them!
❀
Gluten-free Gingerbread Cake

Prep Time: 15 min
Cook Time: 17 min
Ready in: 32 min
Yield:

12 slices
Ingredients
2 1/2 cups (338 grams) Bob's Red Mill 1-to-1 Gluten-free Baking Flour
1 1/2 teaspoons baking soda
1 tablespoon ground ginger
2 teaspoons ground cinnamon
1 teaspoon ground cloves
1/2 teaspoon salt
1/2 cup (100 grams) granulated sugar or coconut sugar
1/2 cup (113 grams) unsalted butter, room temp or 7 1/2 tablespoons canola or vegetable oil + 1/2 tablespoon water
1/2 cup (120 grams) unsweetened applesauce
1 cup (344 grams) molasses1
1 large (50 grams, out of shell) egg
1 cup (240 ml) hot water
Directions
Preheat the oven to 350 °F (175 °C). Grease a 9"x13" pan.
In a medium mixing bowl, stir together the dry ingredients (flour through salt). Set aside.
In a large mixing bowl using an electric hand mixer, cream together the sugar and butter until light and fluffy. If using oil, you can just mix everything together with a big spoon.
Beat in the applesauce and the molasses in at medium speed until well combined. Then add in the egg.
Once the egg is incorporated, add the water. Stir it in using a spoon to begin with (to prevent it from splattering everywhere) and if needed, switch to the hand mixer to get it totally combined.
Gradually beat in the dry mixture until no more flour streaks remain. You don't want any large lumps, but small ones are okay.
Pour into the prepared pan and bake for 17-20 minutes or until a toothpick inserted in the middle comes out clean.
It's fluffiest when warm. I like to microwave it for about 10-20 seconds to make it fluffy again before serving. Once the cake has cooled, you can cover and store it at room temp for up to 4 days. It can also be frozen.
Notes
See post for notes on molasses types.
For dairy-free, be sure to use the oil option.