No-Knead Bread was all the rage back in 2011 when I was new to blogging. Minimal ingredients and lots of waiting results in a magnificent loaf!
Simple and rustic, this is an Easy Bread Recipe you'll want to make again and again. This craggy loaf is perfect to serve with soups, stews or any dish where you're dying to soak up a delicious sauce with a slice of bread. Plus it makes delicious croutons!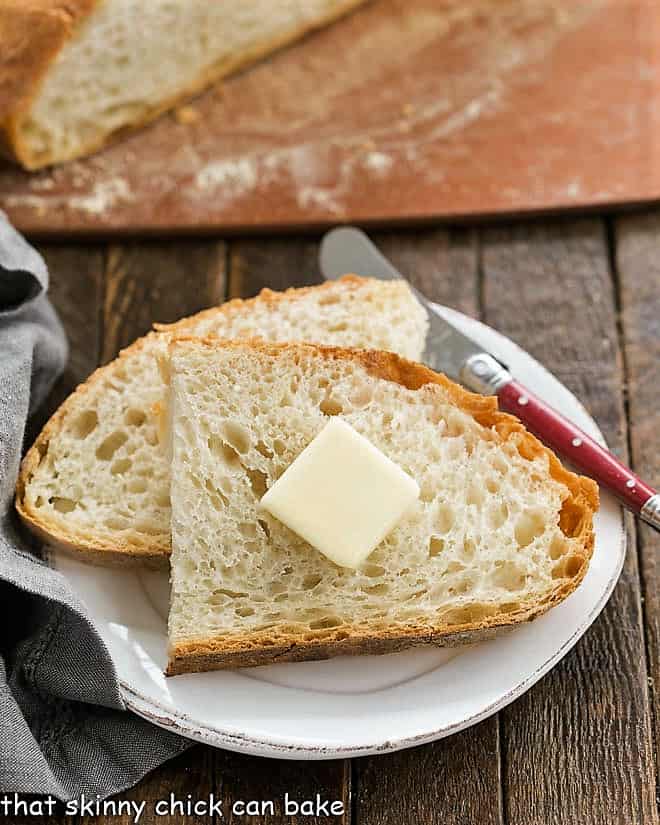 No-Knead Bread
Jim Lahey, of Sullivan Street Bakery, was the brainchild of this unusual no-knead bread recipe. All my foodie friends were buzzing about this recipe after it appeared in the New York Times. It's unique as the dough is wet and bubbly after resting overnight, the long fermentation time allows for more flavor development, and the baking technique in a Dutch oven traps steam in the pot. You'll notice a slightly more yeasty flavor and a nice coarse, open crumb. You'll definitely love a warm slice with a smear of cool, creamy butter!
What Is No-Knead Bread?
The name says it all. The ingredients in a no-knead bread are stirred together instead of kneading by hand or with the dough hook of a stand mixer. There are two resting periods, the first being up to 20 hours. The second is a short two hours before the loaf is baked.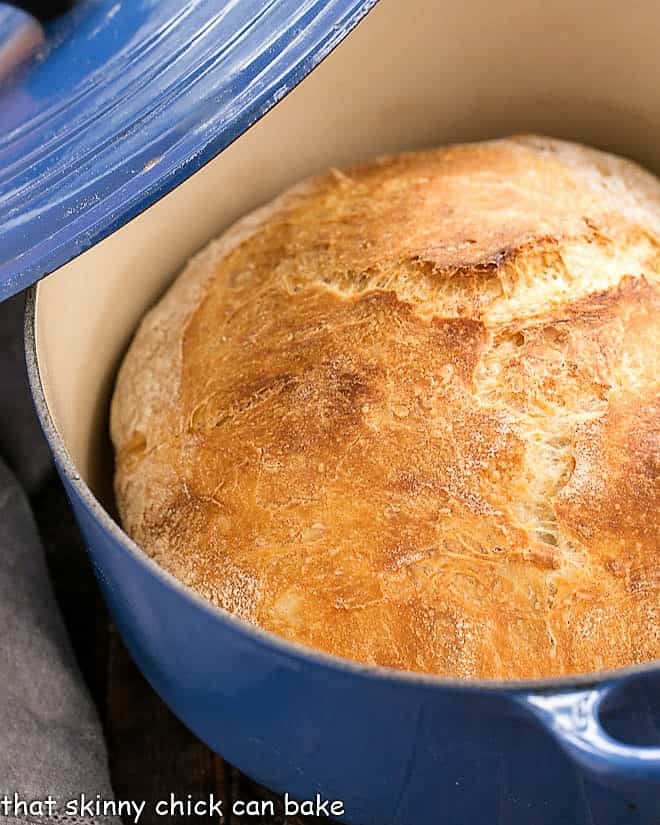 What Supplies Are Needed for This Bread Recipe?
The list isn't too long, but you may not have all of these ingredients on hand.
Bread flour – it has a higher gluten content compared with All-Purpose Flour
Instant yeast – PRO-Tip: I use Red Star Platinum Yeast, do not use Rapid-Rise yeast as it doesn't work well with this wet dough.
Kosher Salt
Olive oil
Instant Read Thermometer – helpful for testing the water temperature and bread for doneness, but not necessary to purchase just for this recipe
Large Cast Iron Pot with a lid, 5 quarts or larger – I use a Le Creuset pan I've had for over 20 years
Non-terry cloth towel – to wrap dough for the second resting period
How Do You Make No-Knead Bread?
Plan for the first, longer, resting period to be done overnight. The dough should rest in a bowl covered with plastic for a minimum of 12 hours, but up to 20 hours. So mix up the dough ingredients in the evening, place the dough in an oiled bowl, cover and let rest on the countertop overnight.
Using only a fraction of the yeast used with a bread you'd knead, the dough is given ample time for the yeast to activate with an overnight resting. Next is the 2 hour "rising" time nestled in a flour-coated towel, before being dumped in a super hot Dutch oven and baked.
How Do You Store This Easy Bread Recipe?
Due to its high water content, no-knead bread is best on the day it is baked. You may want to cut the loaf in half after it's cooled, and freeze half if you're unable to finish the loaf within a couple of days. I added a tablespoon of olive oil to Jim Lahey's no-knead recipe as the added fat helps keep the bread a little moister, but it will still get dry pretty fast.
If you want to keep the integrity of the crust, just place the cut end down on a cutting board and cover with a paper sack. Storing in plastic will soften the crust, but it can be re-crisped in the oven at 350º for 10 minutes.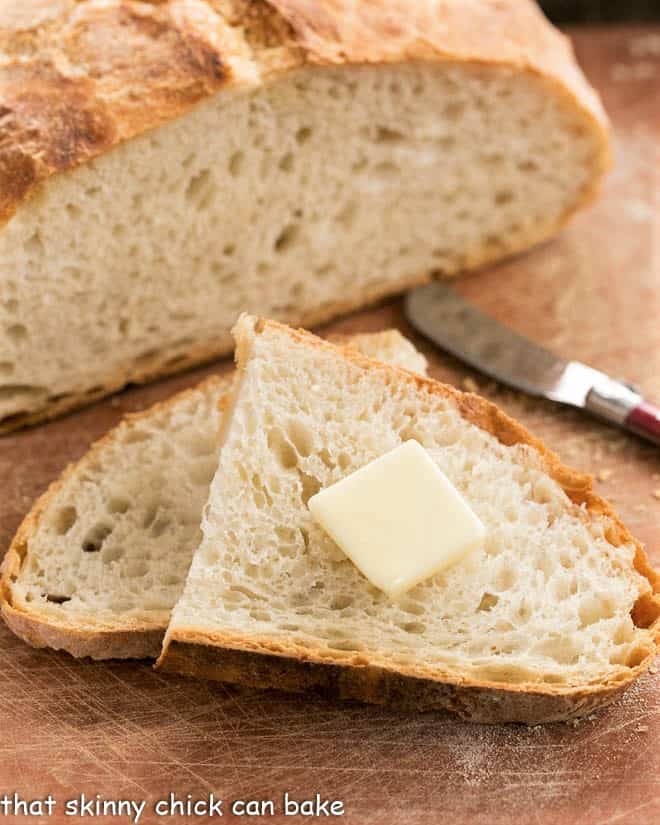 More Yeast Bread Recipes You'll Love:
This recipe was first shared in January 2011. Photos and text were updated in 2020.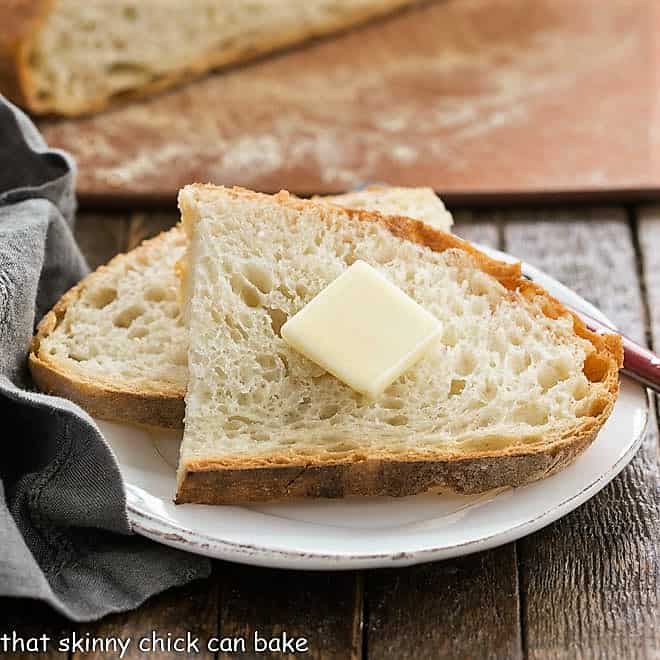 No Knead Bread
The easiest bread you'll ever make! Only time needed, no actual kneading!
Ingredients
3 cups bread flour
1/4 teaspoon instant yeast (use Red Star Platinum Yeast or King Arthur Flour's Instant Yeast, other "quick-rise" yeasts will not work well)
3/4 teaspoon kosher salt or 1 teaspoon table salt
1 1/2 cups warm water (70-80 degrees)
1 tablespoon olive oil plus more for greasing the bowl
Instructions
Mix all of the ingredients in a large bowl with a wooden spoon until they come together.  It will not be a cohesive dough. It will actually be pretty messy looking.  Transfer to an oiled bowl. Cover with plastic and let sit for 12-20 hours on the countertop.
After the waiting period, the dough will be wet and bubbly. Dump the dough onto a floured surface.  Then with a wet spatula or wet hands, shape the dough into a ball.  Set the dough ball onto a well-floured cotton towel (do not use terrycloth), seam side down.  Fold the towel over the dough.  Let rest for two hours at room temperature. It should double in size.
When the dough has risen for about 1 1/2 hours, put a 5 quart or larger cast iron pot into the oven and preheat to 450º.  Cover the handle of the lid with aluminum foil if it's not heat-safe at that temperature. If you're unsure, just do it for peace of mind. You can use any pot that size with a lid that can withstand that temperature. 
Remove pot from oven and dump the dough into the pot, seam side up. Shake the pot a bit to help distribute the dough evenly.  Cover and bake 30 minutes.  Uncover and bake another 15-20 minutes, until the crust is golden. 
If you're new to baking yeast bread, You can use an instant-read thermometer to see it the interior of the loaf is up to 200º if you're unsure if it is done.  Remove the loaf to a rack and allow to cool.
Notes
Recipe slightly adapted fro Jim Lahey
Recommended Products
As an Amazon Associate and member of other affiliate programs, I earn from qualifying purchases.
Nutrition Information:
Yield:
12
Serving Size:
1 slice
Amount Per Serving:
Calories: 134Total Fat: 2gSaturated Fat: 0gTrans Fat: 0gUnsaturated Fat: 1gCholesterol: 0mgSodium: 310mgCarbohydrates: 25gFiber: 1gSugar: 0gProtein: 4g
The post No Knead Bread appeared first on That Skinny Chick Can Bake.