I had the good fortune of a day off right at the beginning of sour cherry season last week (What, you don't mark the weeks of summer using hyper-seasonal fruit as a guide? Just me?) so I put on some sunscreen and a hat, hopped in the car, and went in search of a u-pick farm. I was not disappointed to find a row of trees, heavy with fruit and not a soul in site at a farm a few hours from Brooklyn. It was a hot, hot day and the scent of the last strawberries in the field nearby filled the air as I filled up my bucket with precious sour cherries.
When I got home with my bounty, pie was the only choice. Instead of a traditional round, I went slab style and baked it in a quarter sheet pan. If you don't have a quarter sheet pan or two, I highly recommend picking one up. At roughly 9x13x1, they are the perfect size to bake focaccia, a few cookies, toast nuts, or roast just about anything…but back to the sour cherries.
Pitting cherries can be kind of a pain, but since sour cherries are so soft, I usually skip the pitter and just use my thumb to ease out the pits. It's a bit of a sticky, drippy process so you can move your operation to the sink to make clean up super easy.
I like my fruit pie fillings pretty simple, especially when the fruit is so special (and hard earned). This one is just sweet enough to highlight the cherries without totally overtaking their tart bite. I also added a bit of vanilla bean paste to round out the flavor, but a little bit of extract will do the trick too.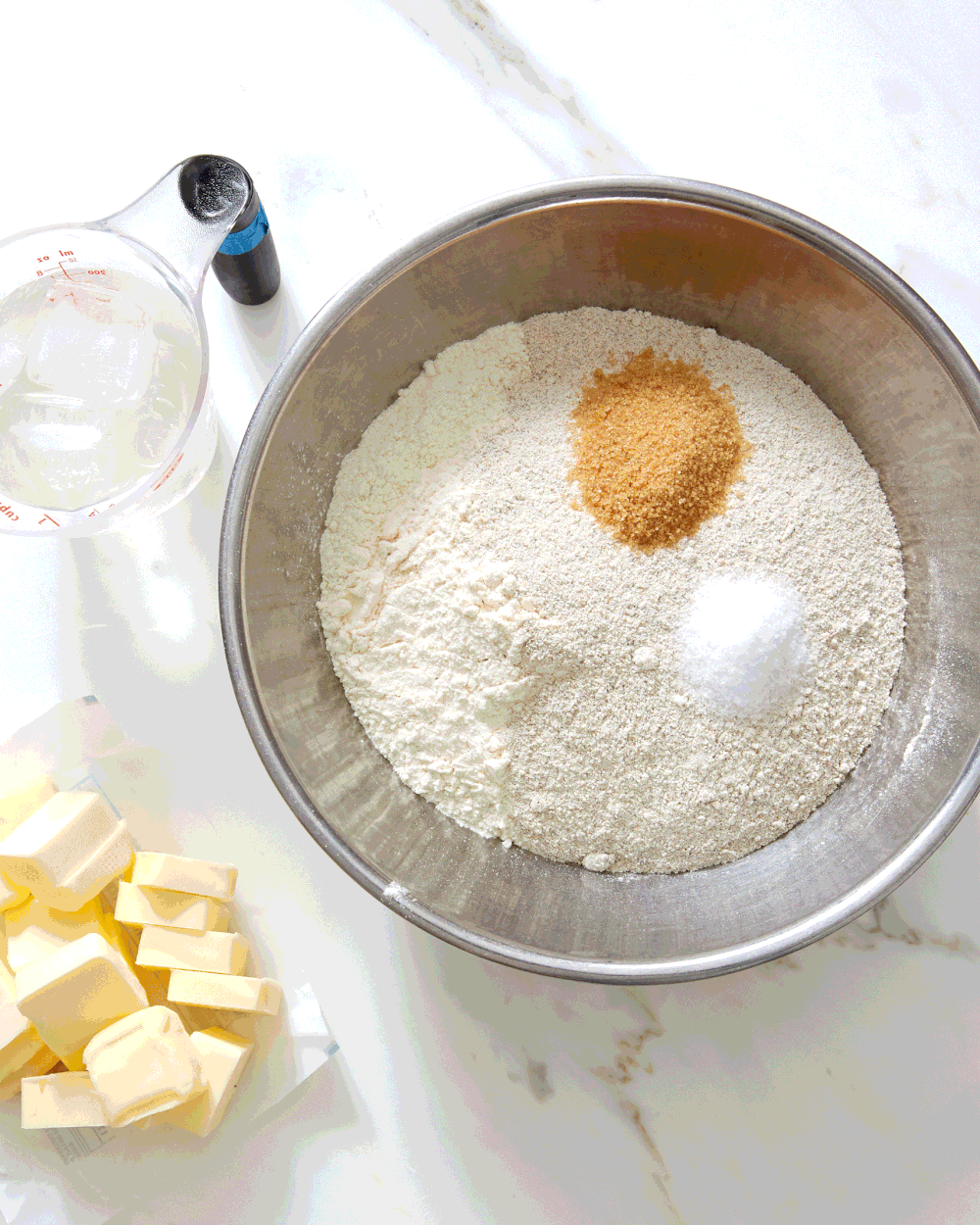 The all butter pie crust has a bit of rye flour and brown sugar for toasty depth that is delicious with just about any fruit if sour cherries aren't available where you live. It might be a little intimidating to roll out such a big piece of dough, but don't you worry. To add both flakiness and structure to the dough, this recipe calls for a series of folds. The folds will make the dough both exceptionally delicious and easier to roll out and move around. Win-win. Check out the gif above to see how it's done.
Don't worry if your dough rips a bit when you roll it out though, you can always pinch it back together. If you have time, make your dough the say before you plan to use it. A long rest will hydrate the dough and make it easier to roll out.
I realize, it is a little unfair to share this recipe because sour cherries can be hard to get your hands on, but you still have a few more weeks to seek them out. Frozen will work in a pinch too, or substitute an equal amount of your favorite summer fruit – you will need a little less sugar for sweeter fruit.
---
Real Deal Cherry Pie
Makes one 1/4 sheet slab pie
This pie makes the best of one of summer's most fleeting pleasures, sour cherries. They are only available for a few weeks in late June/early July, but they are worth the wait, and the trouble of pitting them. The crust uses a bit of rye flour which adds some nutty and creamy flavor to the crust, and pairs beautifully with fruit desserts. Use an equal amount of all purpose flour if you have rye flour on hand. This filling recipe was lightly adapted from Deb at Smitten Kitchen, who adapted from Martha Stewart, and loves sour cherries as much as I do.
Rye Crust
340g/2 2/3 cups all purpose flour
170g/1 1/3 cups rye flour (I used Abruzzi Heirloom Rye from Anson Mills)
1 tablespoon brown sugar
1 teaspoon kosher salt
10-12 tablespoons ice water
1 tablespoon apple cider vinegar
340g/1 1/4 cups unsalted butter, cut into tablespoon sized pieces
Filling
900g/about 6 cups pitted sour cherries
3/4 cup + 1 tablespoon (165g) sugar (I used a natural cane sugar here, but granulated works too)
30g/1/4 cup cornstarch
Juice of 1/2 lemon
1 tablespoon vanilla bean paste
Pinch salt
To finish
1 egg, for egg wash
Turbinado sugar to finish
To make the crust: Add the flours, brown sugar, and salt to a large bowl. Stir them together until combined. Add the apple cider vinegar to the ice water. Working quickly, add the butter to the flour and toss to coat. Then use your fingers or the palms of your hands to press each cube of butter into a flat sheet. Keep tossing the butter as you go to ensure that each butter piece is coated with flour. The idea is to create thin, flat shards of butter that range from about the size of a dime to about the size of a quarter. Sprinkle about 6 tablespoons of the water over the flour mixture and use your hands to mix gently, making sure to get all of the way down to the bottom of the bowl. Continue to add more water a couple of teaspoons at a time.
You have added enough water when you can pick up a handful of the dough and squeeze it together easily without it falling apart.
Press the dough together, then pat it into a rectangle. Fold the dough into thirds like a letter, then split it in to two pieces one slightly larger than the other, form each piece into a rectangle and wrap each piece in plastic wrap. Chill the dough for at least one hour before using, or overnight. I prefer an overnight rest if possible.
When you are ready to bake the pie, heat your oven to 400ºF.
Add the pitted cherries, sugar, cornstarch, lemon juice, vanilla bean paste, and salt to a large bowl and stir gently to combine.
Roll the larger piece of the dough on a lightly floured surface into a rectangle about 11×15. Gently tuck it into a metal quarter sheet pan, letting the excess hang over the sides. Roll the other piece of dough into a rectangle about 10×14.
Pour the cherries into the dough lined pan and top with other piece of dough. Gently fold the bottom dough up and over the top and press gently. Refrigerate the pie until the crust is firm, about 15 minutes.
While the pie chills, beat the egg with a few drops of water to make the egg wash. When the pie is nice and chilled gently brush the surface with egg wash and sprinkle with turbinado sugar. Cut a few vents in the top then bake until the crust is deep golden brown and the juices are bubbling, 45-60 minutes.
Let the pie cool on a rack before serving warm or at room temperature. Ice cream is optional, but highly suggested.